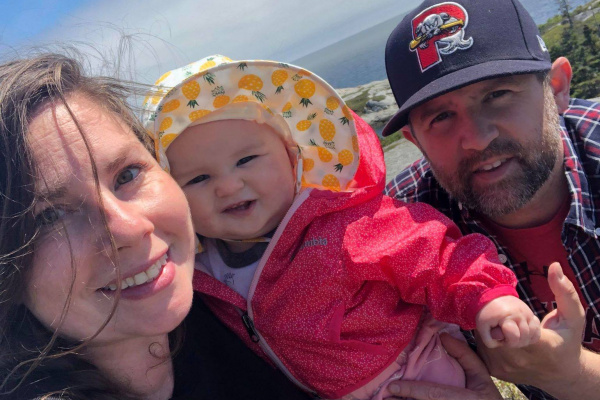 6.5 years ago I packed up my life in Vancouver and moved home to Nova Scotia. I grew up in Halifax, and had never really spent time in Hubbards, but I decided to buy a house here and set down roots. Hubbards has so much to offer, that it was an easy decision to move here, despite not knowing anyone - quick and easy access to beaches, lakes, and trails, farmers market, groceries, pharmacy, health care, schools, library, the list really goes on. And it was only a 30 minute commute to Halifax, which after living in some big cities, is a dream! Living in Vancouver made me appreciate how wonderful it can be to live in a walkable community, and that's exactly why I love Hubbards.
What I didn't realize though, until I had my daughter last fall, was even though you can access so many things by walking or biking in Hubbards, once you add a stroller with precious cargo into the mix, you have a new perspective. I live on the St. Margaret's Bay Rd, and before having my daughter Shawn and I would go for walks, never really noticing how narrow a shoulder is, washouts, how fast some cars travel, or blind spots.  Despite the challenges to walking with a stroller, I took Lottie for walks throughout the winter and spring. I wanted to expose her early to nature, and for me, to get fresh air and stay active. However, in July, once summer traffic started to pick up, I decided to walk less in Hubbards, after one to many near misses with oncoming cars.
Having a sidewalk that continued from one end of Hubbards to the other would make such a difference, not only for my family, but for so many others. I look forward to the community continuing to grow and evolve and can't wait for some day in the future to see Lottie leave the front door to walk to her friend's house or school, and know that she's safe. I'm so happy to see this initiative start up and be led by such a great group of enthusiastic volunteers.